Venue Details
The Alhambra Theatre
Marine Road West
Morecambe

Weekend tickets Adults £65 Children 5 -12 £20 (Children's tickets include access to a supervised Kidzone for 5-14 year olds, inside the venue. Parents can leave their children in the Kidzone while they watch the bands in the hall, but they cannot leave the building. Please note - Under 5's are welcome to use the Kidzone but must be supervised by a parent or guardian at all times.)
Venue will be open from 6pm Friday evening for registration and a full evening program.
Hot food and a full bar will be available. We will be closing the main venue room between 6.30 - 7.30 on Sat and Sun but other areas such as cafes, bars and Kidzone will remain open.
Timings for the rest of the weekend will be announced soon.
Tickets are non refundable and we reserve the right to change the advertised program at any point.
General Enquiries click here
Technical Enquiries regarding ticketing click here

For Hawkeaster tickets click here
Full line up
Daily listings and running times coming soon!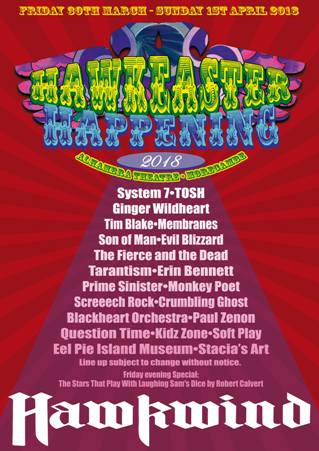 Local Information
For full details of the town, it's local amenities and attractions take a look at the Visit Lancashire website by clicking here
Local camping facilities -

Regent Bay Holiday Park (Click for website)
Phone 01524 413940
(Ask to speak to Debbie and mention Hawkwind for 10% discount)
Westgate Caravan Park (Click for website)
Westgate
Morecambe
01524 411448
(Mention Hawkwind when you call for 10% discount)

Private camping for Hawkeaster attendees at -
Trimpell Sports and Social Club (Click for website)
Out Moss Lane
Morecambe
01524 412894
Friday - Monday
£10 per person in tent
£15 per camper van
£5 per person extra for Thursday - Monday
Also note Club offers full toilet, shower and bar facilities