This article originally appeared in the New Musical Express dated August 17 1974 and written by one Steve Clarke. As with many of these pieces there are some inaccuracies that I'm sure the expert Hawkfans amongst you will quickly note, but it makes for interesting reading all the same!

The collection of photos that accompanied the article
An English Comedy Of Manners
produced by Harlow town council STARRING Dorkwind
Councillor Chris Crackett
Michael Moorcock
written by Steve Clarke Liquid Len
and
The Splodge Brothers
photography by Robert Ellis
The girl with the big tits played by Stacia
THE SCENE'S not an unusual one; bedraggled rock fans, cold and wet, huddled together beneath blankets or polythene sheeting or standing up with an umbrella to keep them dry.
It's festival time, but this isn't the ordinary rock festival. There's no hassles, there's no long queue for the hot dogs or the ice-cream - need ice-cream in this weather, don't we? or the bogs.
there's even a tea room made of real bricks and some of the loos aren't temporary structures.
Harlow Town Council, ( all Labour with the exception of four Liberals) have been turning over part of the town's park for the purpose of holding rock concerts for two seasons now. And they also foot the bill - out of the ratepayer's money, which seems like a good idea to me.
Harlow council are pretty hip. A while back they ignored the Tory government's legislation which did away with free school milk. They also supply their residents with free TV licences.
But back to rock 'n' roll
Today they are putting on Hawkwind as the summers last free gig in the park. Hawkwind can command a 2,000 quid fee just about anywhere in the UK but they're doing this gig for a little less than that.
Past concerts in the park have included 10cc, Fairport Convention, Mungo Jerry and The Bay City Rollers, so you can see this isn't an isolated event.
The man responsible for holding the free concerts in Harlow Park is one councillor Chris Crackett.
The thinking was along these lines: there's a lot of young people in Harlow - it's a new town remember? - and there isn't a great deal to do especially in the way of rock 'n' roll. So why not provide it for them?
Apparently the well intentioned Councillor Crackett had a bit of difficulty persuading The Council that holding rock concerts in the park was a practical idea.
After all Harlow wanted to keep their park and didn't want it ruined by drug-crazed hippies. But Crackett prevailed. Since the council have been promoting middle of the road entertainment free in the park for several years now, there was a stage ready built just waiting foe some rock 'n' roll musicians to walk on.
It's still raining when Magic Michael takes to the stage just after six o'clock. They're a three piece who are mates of Hawkwind. Their music is undisciplined to say the least and when the audience doesn't applaud to loud they shout back obscenities.
It's a toss up between sheltering or watching them and the shelters win. Besides I didn't bring my brolly.
After a set by another of Hawkwind's pals, Al Matthews - okay I was still underneath the shelter but I wasn't in the nearby pub, that was too full, Hawkwind took the stage minus Nick Turner who hadn't yet arrived.
They said it was the first time they'd played in six months and would start with a jam.
Look I've got to own up again.
I didn't brave the storm but elected to view the band from a corner of the stage just behind one of the PA banks which was like some of the audience, covered in polythene. Yeh it was still raining, but it hadn't stopped the kids flowing in as there was now about five thousand.
On the way down to Harlow I talked to a couple of Hawkwind freaks, two 18 year olds calling themselves the Splodge Brothers who were recently released from gaol after serving two months ( it was a three month stretch with a month knocked off for good conduct ) for Grievous Bodily Harm. For them Hawkwind are second only to the Floyd - they claimed to have bribed their way into a Floyd gig last by giving the bouncers 50p each - and they like them because they're good to trip to. The Splodges didn't think to much to Hawkwind's musical prowess, but a tab of acid and to hell with musicianship.
One of the brothers had been taking acid since he was 14 and they told me they'd seen nine and ten year old trying to score acid near where they live in Pimlico.
But back to the gig.
Hawkwind eventually got stuck into "Warriors On The Edge Of Time" augmented by Al Matthews on conga and a lunk of a fella wearing a smock and a hat decorated with all manner of things including a feather. This gut recited 'poetry' every now and again in one of those doom-laden tones. You know the kind of thing - "we're all seated on the edge of time/ We need you, it's dark on the edge of time."
It wasn't until I was informed by Stacia that I realised the guy was Michael Moorcock, respected sci-fi writer. Surely he could have afforded better clothes than that. But then I suppose he was trying to be a hippy.
Saturday's was Hawkwind's with the newly recruited Simon King which now means they have two drummers, and emphasises the rhythmic barrage of the group even more.
Nick Turner eventually turned up on stage clad in a vivid green cosmic jump suit and preceded to dance around with Stacia.
Now I really admired Stacia who kept going outfront and dancing in the rain. Bare-footed and all. She told me she can only dance bare footed. At least Turner had the sense to wear knee-high boots.
"It's too cold" she complained. "The water on your feet makes the whole body cold."
Eventually the rain did stop and the umbrellas came down. "It looks just like Bickershaw", one of the band observed.
And so on to the music. Well I don't know.
I hadn't been taking acid. In fact the only stimulants I'd had were a couple of Scotches, the odd swig of Stacia's Vodka and a couple of gulps of beer.
So you see I was pretty sober. But I do know Hawkwind's music has got a bloody good rhythm. But about all those cosmic gurles, fizzles, bubbles and what have you . . . What would Robert Johnson have said, or come to that, even Eric Clapton?
Do you know what these numbers are called, Stacia? I asked.
"That was Brainstorm". The mime was of a robot who comes to life. I can't remember the other ones. This is called 'Paranoid', she says as the band re-start their relentless thumping.
"This is Liquid Len," Stacia informs me, pointing towards a wollen-capped fella siting behind something which resembles a mixing desk. "He's incredible, you'll see when it gets dark."
I saw Liquid Len had arranged this kind of snake-like movement of lights across the back of the stage and that was pretty impressive - although it al suffered somewhat from being out-doors.
Hawkwind played for around two hours and the audience got well into them. Stacia asked me if I liked Hawkwind. Most writers don't, she said. Be honest she said. Well I said I did enjoy although the Sam and Dave record which Andy Dunkley played immediately after the set was more in my line.
I could expound on that, but I'm sure you'd much rather go and read the next piece if this paper.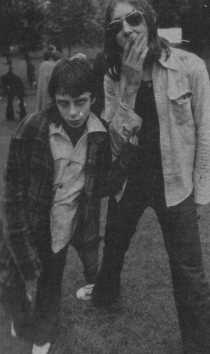 I assume these are the aforementioned "Splodge Brothers", good looking fellas both of them!