The Doremi tour had been recorded at Liverpool and Brixton and the band began overdubs and mixing on the album, which was to be named Space Ritual, at the beginning of the year with Anton Matthews and Vic Maile in Olympic Studios. With a lavish package by Barney Bubbles and Bob Calvert, the double record was released in May, becoming Hawkwind's highest charting album at number 9.
MORE TOURING - MORE CHAOS
The band continued gigging - some UK dates in February (including one for the in-mates at Wandsworth prison), Germany and Rome later in the month, and Ireland (North and Republic) in March. Yet again, Dik Mik left in March (or rather, stayed in Rome), rejoining a month later. Commenting on such matters at the time Dave Brock is quoted as saying - "Things like that [members not turning up for a gig] used to happen all the time - different people would go away for a few weeks and nobody would think anything of it. But now, because we're more well known, you do anything like that and people start thinking 'ah-ha...' "- Dave Brock, 1973
In April the band organised some more UK and Germany gigs. However, the German tour didn't go smoothly with half the band reportedly not turning up, and having tried to organise it themselves, eventually collapsing.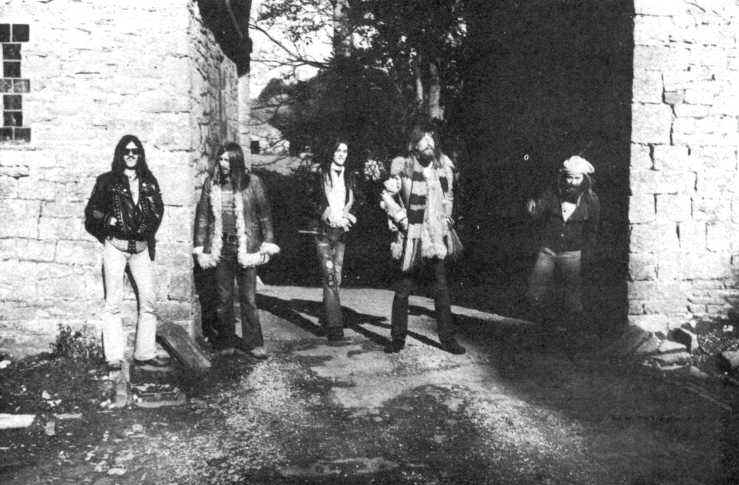 HAWKWIND - CIRCA 1973
(L-R) LEMMY, D BROCK, S KING, N TURNER & D DETTMAR
ALSO HAPPENING IN 1973
Great Britain, Ireland and Denmark join the EEC
Yom Kippur war following invasion of Israel by Egypt and Syria
US Vice- President Spiro Agnew resigns, Gerald Ford succeeds him
Four senior aides of President Nixon resign after Watergate revelations
State of Emergency in the UK following wide spread strikes
Famine in Ethiopia
Princess Anne marries Mark Phillips
Sydney Opera House completed
FILMS, NEW SINGLE, IS THERE NO END TO THESE GUYS TALENTS
The band played their largest gig to date, appearing at the London Stadium on the 27th May (a very poor recording of this has been released as Bring Me The Head Of Yuri Gargain). Sometime in the year, Robert Fuest made a film of Michael Moorcock's The Final Programme [aka The Last Days of Man on Earth]. A piece in the film featured a futuristic night-club - the band playing on the stage at this night-club was Hawkwind (although their appearance in the film was somewhat fleeting). Actually it was non existent in the final cut, apparently the band did appear in the trailer that was shown in cinemas before release, however by the time the film came out they had ended up on the cutting room floor.
GOOD TIMING!
A new single, Urban Guerrilla, was recorded and released in July. A 23 date UK tour was undertaken to promote it, but its release coincided with the IRA instigating a bombing campaign in London. The single was doing well, reaching number 39, when the band decided to pull it - "We did not want to feel extra sales have been gained from the publicity given to recent events".
"Bob and Nik's place in Gloucester Road got raided by the secret services... So United Artists got cold feet and decided to withdraw all copies from the shops. That would have been a Top Five single and who knows what would have happened" - Dave Brock (1992, Record Collector)
Not all of the band were keen on the song, Simon King said of it at the time - "I wasn't really bothered about doing another single - we'd been pulling in more or less the same number of people, and as far as I could see we didn't really need to do another single for the sake of getting another hit record. I didn't like the idea of doing a single, and I didn't like the song to be quite honest" - Simon King, September 1973
CALVERT LEAVES AS SOLO CAREER BECKONS
Dik Mik and Calvert both left the band at the end of the tour. Calvert started pursuing another of his projects, Captain Lockheed And The Starfighters. A concept album, featuring dialogue pieces between each music track, it revolved around the German Defence Minister commissioning US designed Lockheed Starfighters in the 1960s. With German modifications, the plane had a tendency to crash (162 crashes had been reported at the time of the album release). The main group used for the album was Paul Rudolph (guitars and bass), Lemmy (bass), Simon King (drums) and Brian Eno (Roxy Music - Synths), with Del Dettmar, Nik Turner, Dave Brock, Twink, Arthur Brown and Adrian Wagner contributing. Vivian Stanshall and Jim Capaldi (Traffic) contributed to the dialogue pieces.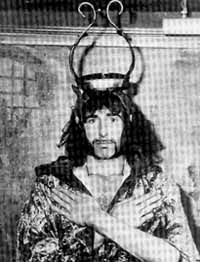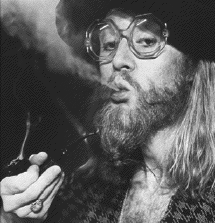 BROWN STANSHALL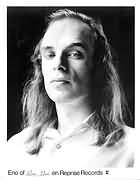 ENO
HAWKWIND STILL MOVING FORWARD
The rest of the band continued gigging and decided to leave the Space Ritual behind and pursue a more musical direction and moving away from the space/science fiction themes.
Del Dettmar noted at the time - "That [Space Ritual] was tying us down after a while, we're more into improvisation and gradually this became a set thing, although we'll still be playing parts of it now and again - Feb 1974"
Simon King was equally vocal regarding the direction he felt the band needed to take - "Douglas (smith, manager) wanted us to have Bob Calvert back in the band doing some gigs, and maybe take him to the States with us, but I don't think the band think it's a good idea really... for his health gigging with us isn't good for him. And as far as the band goes, if he came back now we'd be doing more or less what we'd been doing with the "Space Ritual" and we don't want to do that - we're desperately trying to get out of doing that and into something else quickly - Simon King, September 1973" He went on to say - "There's nothing cosmic about me, all I'm interested in is racing and football... I'm the sort of person that if I'm getting a regular wage that's enough to live on I'm quite content.
Some UK gigs in August and September, including Windsor again, Treentishoe and St Pancras (where Nik Turner electrocuted himself onstage), a visit to Scandinanvia (which included one gig being filmed), Paris and Zurich
USA - HERE WE GO
In November and December, the band toured the USA for the first time, although it was considered as more of a showpiece affair. Around about this time, they hooked up with Al Matthews, pictured below, who lived across the road from Doug Smith. Matthews was an acoustic guitarist/conga player (who had previously played with Ritchie Havens) who would open for Hawkwind and then join them for the main set playing his congas.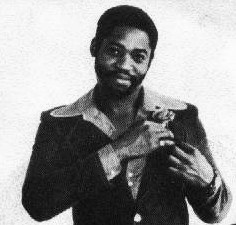 Dave Brock would later say of Al Matthews - "Al was an amazing character - a Vietnam veteran. He had all his war medals. During our tour of America in 1973, we went to a party where there was a liberal amount of Angel Dust. He would always have whatever was going, and usually more of it than anyone else". - (1983, This Is Hawkwind)
ADVERTISMENT