Around this time, Hawkwind had been generating interest from various people involved in the underground. Bob Calvert (who had been a friend of Turners back when they were growing up together in Margate) a writer and budding poet, Barney Bubbles a graphic artist and Phil Franks a photographer were all contributing to the underground press, such as Oz, IT and Friends. Michael Moorcock, the science fiction author, had also been made interested in the band by Calvert and John Trux. In addition, Andy Dunkley became involved DJing and MCing at gigs, and Jonathan Smeeton (alias Liquid Len) started to provide the lighting. And of course, Stacia was now dancing regularly with the band.All of these people were to prove important in shaping the image and direction of the band for years to come

BOB CALVERT
MICHAEL MOORCOCK
NOT APPEARING ON PAGE 3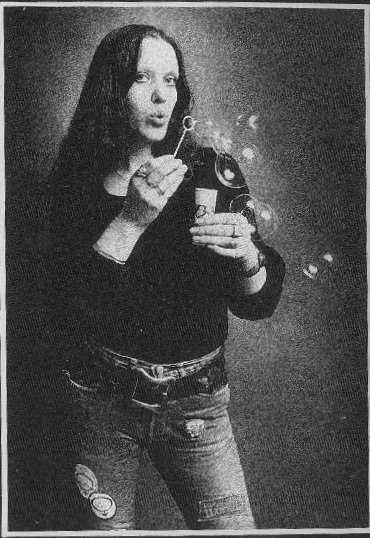 "No, people watching did not regard it as a sexual thing. Hawkwind don't attract that type of audience. They reacted to my dancing as an expression of freedom... Somebody once approached me to do a pornographic film - I reacted quite violently - not physically, but verbally. I would never contemplate anything like that". - Stacia
NEW ALBUM
In Search Of Space was recorded at Olympic and was pretty much a continuation of the previous album with long instrumental jams such as You Shouldn't Do That and acoustic/busking pieces such as We Took The Wrong Step Years Ago. One significant piece that indicated a slight shift in direction was Master Of The Universe, entering a more rock orientation. The album was released in a lavish package with a Hawklog booklet, designed by Barney Bubbles and featuring Calvert's writing. The booklet contains entries of a group travelling through space and time. Incidentally, the band photographs on the inside are of Hawkwind and The Pink Fairies (Paul Rudolph is the second guitarist with Brock behind Ollis
In 1971 Nik Turner comented - "The album has got quite a lot of the things we believe in, particularly the ecology thing. The people in the space-ship visit Earth in 1985 and find that it's a total mess of concrete and iron... The two-dimensional trip was Bob's (Calvert), and the space-ship idea was Barney's (Bubbles) - Nik Turner, 1971"
Whilst in the 2002 record collector feature Dave Brock pointed out - "At one point we just thought 'fuck it, let's phase the whole lot'. It was like hearing music blown about by the wind at festivals - Dave Brock (2002, Record Collector)"
OLLIS - OUT
Also of concern around this time period was the failing condition of Terry Ollis. Ollis wasn't too happy with direction in which things were heading and his method with coping was to take mandrax (a downer). This all too frequently resulted in him being unable to perform to the required standard (or even to perform at all on some occasions). Quite regularly he would strip off and play his drums naked. The band resorted to using both Twink and Viv Prince [ex-Pretty Things] to either play alongside Ollis, or just to play instead of him on those occasions when Ollis was far too out of it.
ALSO IN 1971
London Bridge is dismantled and sold to an American consortium, it is later re-assembled at Lake Havasu in Arizona
Decimal currency introduced to the UK
The Boxer Sonny Liston dies
"Hot Pants" are this years must have fashion item!
ALL CHANGE
At the end of March, Crimble left to help organise the forthcoming Glastonbury Festival. In his place came Dave Anderson, for once an experienced musician with a track record - Anderson had been part of the German 'Space Rock' group Amon Duul II. Another BBC Session was recorded on 19th April, performing We Do It and Come Home.
DIK MIK
In May, Dik Mik quit the band following an horrific motor accident. Dik Mik's leaving and returning to the band was to become commonplace. To replace him, Hawkwind turned to their sound engineer, Del Dettmar. Another BBC Session on the 19th May, the band recorded Master Of The Universe, You Know You're Only Dreaming and You Shouldn't Do That - all fore tasters of the new album being recorded.
"We were in Scotland, and Dik Mik, two of the roadies and a couple of girls took a corner too fast, tuning their van over. They hit a car - I think the driver was killed. One of the roadies, John The Bog, had his elbow sticking out of the window and when the van turned over, half his elbow was ground away. Me and Del had to reclaim the van later. It was a bit of a wreck - Nik Turner (1983, This Is Hawkwind)!"
[This incident was immortalised by Calvert in Days Of The Underground. John the Bog was the dealer at the Middle Earth club, his name being inspired by he place where he carried out his business.]

DIK MIK
ADVERTISEMENT
RELEASED OCTOBER 1971
ON UNITED ARTISTS
CAT NO - UAG 29202
FEATURING HAWKLOG WITH ART BY BARNEY BUBBLES
LEMMY
In August Dik Mik returned to the band, who now continued with two electronics players. However, tension was mounting between members of the band and Anderson (who they felt was too show businessy - driving around in a flash sports car, not turning up for the free gigs). At the same time, Dik Mik was attempting to get his flatmate Lemmy Kilmister involved as a second guitarist, to which the band showed resistance (Lemmy had a reputation as a speedfreak, and considering the problems the band had had with Dik Mik, they weren't too enamoured with the idea of having two speadfreaks in the band). However, Lemmy got his chance when Anderson failed to turn up when the band was playing under the motorway at Portobello Road at the end of August. The band took him on on a 6-month probationary period. In typically direct fashion Mr Kilmister was to comment in 2002 - "At one Ladbroke Grove show, like a cunt, he left his guitar in the gear van. It was like 'Please steal my gig'. I'd never played bass in my"
As a footnote to this, if this information is correct, then our good friend Mr Anderson joined the band in the March of this year, managed to "piss" everybody off and was on the verge of being ousted completely by probably the most famous member that the band have ever had by the end of August of the same year. Isn't it amazing when you think of it like that, the "legacy" that Anderson has left behind for a mere six months in the band!